Socialhome
personal webpage with social networking functionality
24.09.20
overview
world
mascot
pony

,
connects
diaspora*

,

Friendica

,

Hubzilla

,

Mastodon

,

Misskey

,

Pixelfed

,

Pleroma

,

WriteFreely

,
Socialhome's column grid layout makes it a perfect network for sharing image content or creating personal portfolio and delivering new posts to friends from other Fediverse platforms.
Socialhome grid layout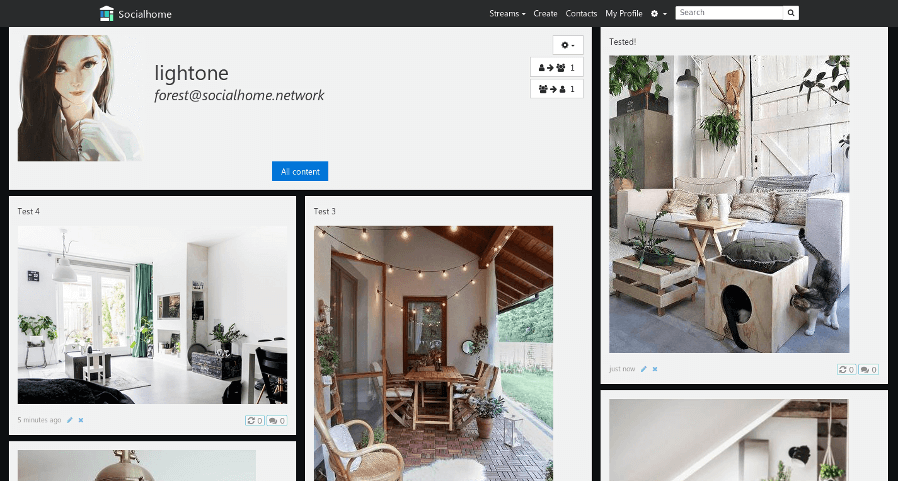 features
pinned posts
editing posts
join the network
Choose a server with open registrations and create an account:
contributing
Please, keep in mind that you are a participant, not a customer.
DONATE
If you'd like to help the Socialhome network grow, you can contribute in different ways.
Donate to development team or the administrator of your server (if you have the means to do that).
Set up your own instance, to make federation stronger and healthier, with many small servers.
Spread the word. Invite your friends. Explain why it's important.
Contribute with code. Send a pull request. Resolve an issue. Take a bounty.
Help translating. Design promo materials. Print and distribute stickers.
Thank you. See you in Socialhome.
note
[1], [2], [3] - updated regularly, latest update - 16/08/20